Madeleine Flores is a cartoonist, writer, animator, and the creator of the popular webcomic Help Us! Great Warrior, which is now available as a monthly serial from BOOM! Studios. She also collaborates on the animated series Bee and Puppycat. She lives in LA and has a cat named Dirtbike.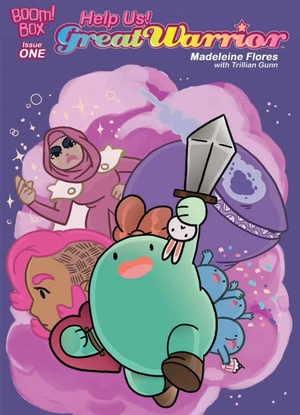 HELP US! GREAT WARRIOR
(Boom! Studios, 2014-2015)
Based on Madeleine Flores' popular webcomic, Help Us! Great Warrior is about a very powerful (but deceptively tiny) Great Warrior who protects her village from evil-doers and looks rad while doing it!
Possessing great strength and even greater self-confidence, she's ready to kick some butts and save everyone, especially hunks/pals/handsome skeletons. But Great Warrior has a secret...and will her friends stand by her side when they find it out?