Ben Sears is a cartoonist, illustrator, and musician from Louisville, KY. His clients include Image, Wacom, Cartoon Network, and Oni Press, among others. His Double+ characters have also appeared in a number of zines and online anthologies, where the protagonist is usually in over his head.
Website: http://freebensears.com/
HOUSE OF THE BLACK SPOT
(Koyama Press, May 2019)
The Double+ gang discover that sometimes greed can extend beyond the grave, as they are thrust into a battle between revolting real estate developers and their ghoulish goon bent on destroying the idyllic Gear Town with ghastly gentrification and the most frightful sight of all…condos!
THE IDEAL COPY
(Koyama Press, May 2018)
Plus Man and Hank have been blacklisted and have replaced treasure hunting with job-hunting, before landing a catering job at a swank hotel. But trouble doesn't wait for hors d'oeuvres as the boys find themselves with a main course of counterfeiting crooks to crack!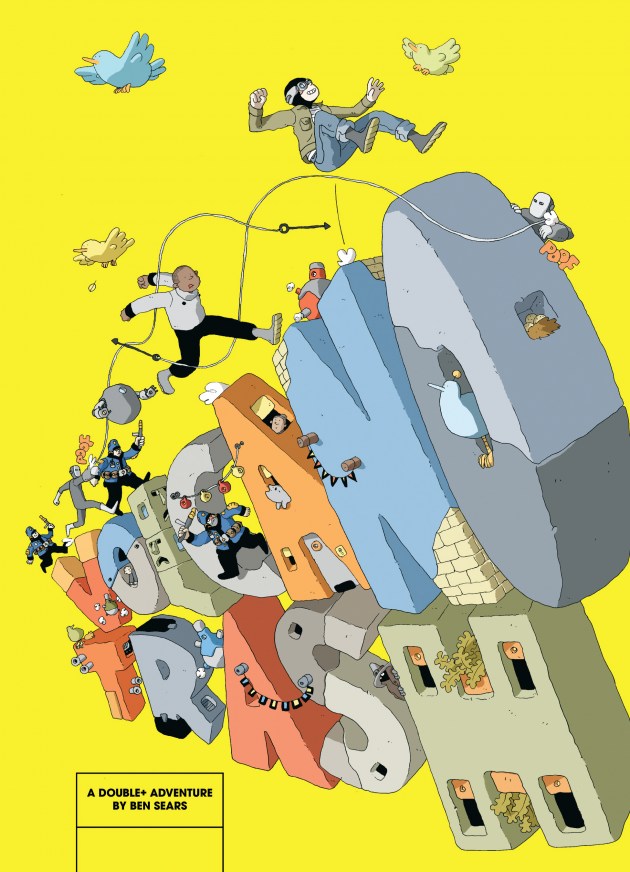 VOLCANO TRASH
(Koyama Press, May 2017)
Corrupt cops, hive-like henchmen, begoggled boy heroes, labyrinthine HQs, unlikely team ups, heartbreaking best friend breakups, and a liberal dose of super science, zingers and explosive action. Sound like a Double+ adventure? It is.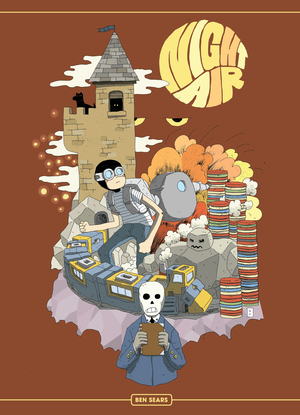 NIGHT AIR
(Koyama Press, May 2016)
Plus Man is a roguish knave without equal, an antihero in his own mind. His coolheaded robot, however, knows better. This odd couple has just been given a break: a tip on a score of valuable alloy. The catch? The alloy is in a haunted castle. One really haunted castle.